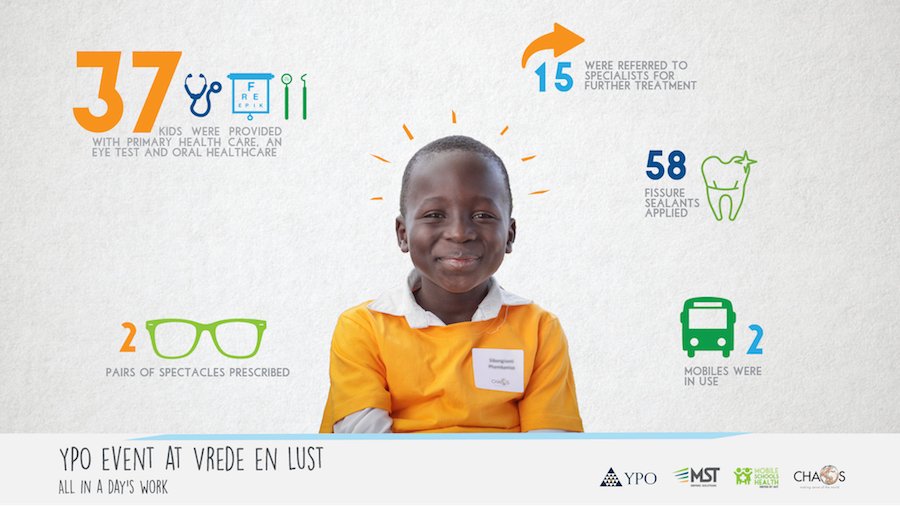 YPO event showcases MST solutions
We're excited to announce that MST will be at YPO EDGE 2017, also known as the Young Presidents' Organisation (YPO) Global Leadership Conference, to tell the world about the positive impact we're making with our mobile clinics.
At a recent Young President's Organisation Gold education YPO event, Mobile Satellite Technologies (MST) had the privilege of sharing our vision and how we are implementing solutions to major African issues by using innovation, mobile technology and traditional transportation services. The YPO event, themed "Chaos – making sense of the world" took place at the Vrede en Lust Wine Estate, and was a great success.
MST CEO, Fernando Acafrao spoke to the YPO event attendees, giving background information on the MST solutions. Two Mobile Schools Health vehicles were in action, providing primary health care, optometry and dental services to children from the area.
YPO event – MST is disruptive and Innovative
Mr Acafrao explained,  "The reason why MST is having a massive impact is because of the company's innovative approach to problems. We are so disruptive, and so innovative, we're tackling problems by using technology and all the abilities we've built over the years in our business. In the process we're also connecting people to each other and creating the glue so all of us, public and private organisations, are working in one direction. That's how we're going to solve problems."
YPO representative, Christopher Rolfe, said these events are designed to increase member learning about the world around them. "Take home value is key, and in this event, in partnership with MST, we were able to showcase a unique, innovative business solution that is solving real world problems. Within the YPO global family, there are always members that are doing extraordinary things; Fernando is one of them — right up there at the top of this pile in terms of the business he is building.  He and his team at MST were a pleasure to work with in delivering this event."
Within the YPO global family, there are always members that are doing extraordinary things.
YPO representative, Christopher Rolfe